Mervyn Peake
I am the leading specialist in the works of Mervyn Peake and always carry a large and varied stock of first editions of his published works in book and periodical form. We normally have books written, illustrated and /or with contributions by Peake.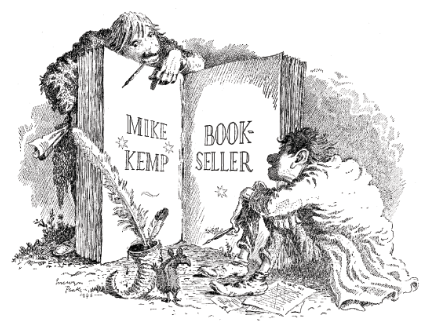 MERVYN PEAKE (1911 - 1968)

Mervyn Peake, artist, illustrator, poet, novelist and dramatist, has been first an interest and then a passion ever since my father gave me the Titus Groan Trilogy for my 18thbirthday. When I became a bookseller 32 years ago it seemed natural to start to seriously collect his books, and I bought my first picture exactly 30 years ago. Since that time I have amassed a personal collection of over 500 different items, showing the extraordinary breadth of his career from his first published piece in an obscure missionary magazine in 1922 at the age of 11, to the recent publication of his Sunday Books, originally illustrated for the amusement of his children.
The items in this catalogue are not my personal collection; that is offered for sale in its entirety elsewhere, but material that has been accumulated for the past ten years or so, expressly to issue this catalogue as my own celebration of his centenary. In my own collecting I am a completist, and make no apologies for that, trying to find editions and issues, however minor, for all his works. Some of that obsessiveness is apparent in a few of the entries in this catalogue and I hope that others share my interest.
See recent BBC article on my collection which is offered for sale HERE
The Guernsey Press also printed a full page article on Saturday 28th November, which can be downloaded HERE

Hopefully this catalogue has examples of all aspects of his work showing his extraordinary ability in so many fields. In a way this has always been part of Peake's problem to the collector; he fails to fall neatly into any one category. The dilemma to many: does one collect his few novels, his small output as a poet, his much larger output as an illustrator of classic children's books, the impossibility of accumulating scripts of his recently re-assessed dramatic output (only available in duplicated typescripts), or the expense of buying oils, watercolours or exquisite pen and ink drawings. I can't answer that. However I can offer this selection from across his range. You choose…

I issue an occasional list of Mervyn Peake items for sale. To subscribe please click HERE

THE OFFICIAL MERVYN PEAKE WEBSITE can be found at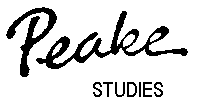 The periodical devoted to the life and work of Mervyn Peake (1911-1968), Peake Studies provides a unique independent forum for criticism and debate for all those interested in Mervyn Peake's life and work as an artist, novelist, poet, and illustrator.
Peake Studies comes out twice a year. A quality, typeset publication,called "a very handsome journal" by Science Fiction Studies, it averages 48 pages per issue.
Write to the editor/publisher;
      G. Peter Winnington
      Au Village
      1453 Mauborget
      Switzerland

      phone and fax +41 24 436 22 32
 
Peake Studies now has a site on the web where among other things there is a bibliography of Peake's work:
New Publication
We have republished, in its original form, Mervyn Peake's rare first book Captain Slaughterboard Drops Anchor. Originally published by Country Life in 1939, most of the stock was destroyed in the Blitz in 1940 and consequently the original has become of almost legendary scarcity. In twenty years we have known of fewer than ten copies to appear on the market. With the permission and co-operation of the Mervyn Peake Estate we have published a Limited Number of copies for sale.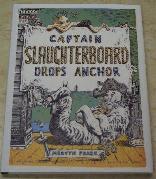 click on the image above for more pictures and details of this new book


---
---
MERVYN PEAKE SOCIETY
The Mervyn Peake Society is currently inactive.